About PlexiCraft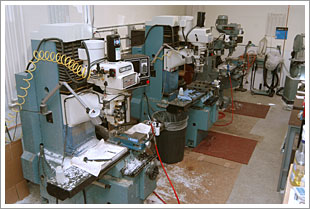 In the fall of 1972, Jim's Instrument Manufacturing, Inc., was opened by Jim Rogers. After working for the University of Iowa in the Medical Instrument Shop for seven years, Jim decided there were doctors and research personnel who could use his help. Working for the University's Medical Instrument Shop gave Jim an excellent background in the medical instrument field.
Throughout the years since 1972, Jim has helped many doctors and research personnel solve their problems with a special precision instrument for eye surgery or a precision apparatus for a research laboratory.
With the help of doctors throughout the world, Jim has designed, developed, and manufactured many eye instruments used in research and eye surgery. Jim also developed and patented the Iowa Penetrating Keratoplasty Trephination Press (Iowa PK Press) for cutting the donor cornea to make ready for transplanting into the recipient eye.
Designing laboratory equipment for culture cell research has been one of Jim's many skills. He makes a number of different types of Ussing Chambers that are used in cell research throughout the world. All Jim needs is a doctor's or researcher's idea and he will make that idea into a working apparatus.
In 1995, Jim opened PlexiCraft, Inc., a subsidiary of Jim's Instrument Manufacturing, Inc. PlexiCraft, Inc. specializes in the fabrication of items made of Plexiglas® and other materials related to the plastics field. Many items made from Plexiglas® are used in the everyday household. Display cases, fabrication of display boxes encasing sports memorabilia, are just a few items that Jim can manufacture. Give us your ideas and we can turn them into finished products.
We have a full line of machines that will make almost anything an engineer might need. Lathe work as well as mill work can be handled by the personnel at PlexiCraft, Inc.
Contractors and engineers are welcome to contact Jim for a quote at the address listed on this web page. If you are interested in contacting us with questions or for more information on our company please click here.